Allergy tests in the field of clinical diagnostics are helpful for identifying food allergies and food intolerances as well as alleviating symptoms of the patients. The tests show the patients whether they can tolerate specific foods or not. The overall market for food allergy testing has grown in recent years, as this attracts more and more providers entering the market in the European countries. In the report IndustryARC – Food allergy and intolerance testing market a growth of 10.4% CAGR is assumed in the years 2015 to 2020. The development of clinical food allergy tests is presented as follows (IgG testing is a part of this growing market).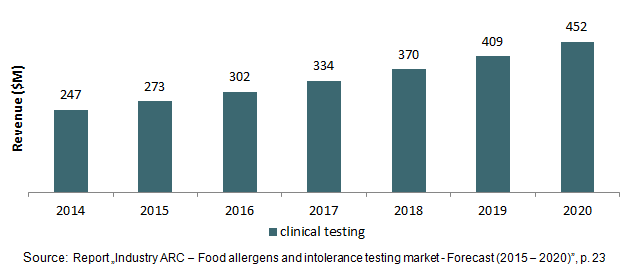 Why can one expect an increase in this area and why is the business area so promising?
The number of people suffering from food allergies is continuously increasing. In the US, the number of people suffering from a food allergy has climbed by 50 % since 1990. Due to this increase, there have also been changes in the declaration of food. To make it possible for allergy sufferers to determine whether they can eat these products or not, the declaration of ingredients became more and more important. In the EU, all new food information regulations have to be followed since December 2014, and the labeling of the 14 main allergens (IgE) has become mandatory. This resulted in a greater awareness of the perceptions of food allergies and food intolerances of the population. Subsequently the customer now looks more closely at what he actually eats and where the food comes from. The increase in consciousness also leads to a stronger focus on food allergies and food intolerances and an increase in the test market is recorded.
Other driving forces in the food allergy testing market are the growing awareness of health as well as dietary trends. Furthermore, there has been a rise in healthcare costs. All these factors lead to a roused attention on food allergy testing.
Therefore, it is expected that the demand for such tests will increase in the coming years. Now is a good time for a partner company to enter this business segment and profit from positive trends and developments. ImuPro offers a reliable IgG testing and a concept with the objective to accompany the patients throughout their dietary change and in addition to support them in the process. Since it is not always easy for the customer to find the right recipes for the change of diet, we can help with the tailor-made ImuPro recipe book. This is based on the test results and may also help your patients to change their diet successfully. In order to create a guideline for patients which supports them on their path of nutritional change, our scientific board has developed the Personalised Nutritional Guidelines that make the ImuPro concept unique. Due to the personalising part and the support we provide to our business partners, we can grant that the patient receives the best accompaniment possible on his ImuPro way. We are interested in building a global brand that more people in the world can benefit from the ImuPro concept. For us, it is of great importance to ensure good quality and service. If you are interested in cooperation, just have a look at what we are searching for:
Basic knowledge of IgG food allergies, often called food intolerances
Ability to focus on the ImuPro business and one dedicated person
Motivation to perform marketing & sales activities and "stay hungry" for future growth
Networking activities, contacts and experience in one or more of the following fields:
– Clinical testing, especially allergy
– Specialty laboratories (e.g. genetic, hormone, anti-aging, detox, gastro-intestinal / gut flora, nutrition)
– Gastroenterology & complementary medicine
– Nutrition & naturopathy
– Health care & wellness
– Fitness, lifestyle & performance
In case these criteria apply to you, we are looking forward to getting to know you and your business!